Introduction
A Total Knee Replacement (TKR) or Total Knee Arthroplasty is a surgery that replaces an arthritic knee joint with artificial metal or plastic replacement parts called the 'prostheses'.The procedure is usually recommended for patients who suffer from pain and loss of function from arthritis and have failed results from other conservative methods of therapy.
In an Arthritic Knee
The cartilage lining is thinner than normal or completely absent. The degree of cartilage damage and inflammation varies with the type and stage of arthritis.
The capsule of the arthritic knee is swollen
The joint space is narrowed and irregular in outline; this can be seen in an X-ray image.
Bone spurs or excessive bone can also build up around the edges of the joint.
The combinations of these factors make the arthritic knee stiff and limit activities due to pain or fatigue.
Diagnosis
The diagnosis of osteoarthritis is made on history, physical examination & X-rays.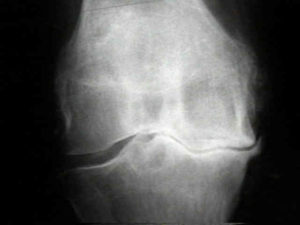 The benefits following surgery are relief of symptoms of arthritis. These include:
Severe pain that limits your everyday activities including walking, shopping, visiting friends, getting in and out of chair, gardening, etc
Pain waking you at night
Deformity- either bowleg or knock knees
Stiffness
Surgical Procedure
Each knee is individual and knee replacements take this into account by having different sizes for your knee. If there is more than the usual amount of bone loss, sometimes extra pieces of metal or bone are added.
Surgery is performed under sterile conditions in the operating room under spinal or general anesthesia. You will be on your back and a tourniquet applied to your upper thigh to reduce blood loss. Surgery takes approximately 1 1/2 hours.
The surgeon cuts down to the bone to expose the bones of the knee joint.
The damaged portions of the femur and tibia are then cut at the appropriate angles using specialized jigs. Trial components are then inserted to check the accuracy of these cuts and determine the thickness of plastic required to place in between these two components. The patella (knee cap) may be replaced depending on a number of factors.
The real components are then inserted with or without cement and the knee is again checked to make sure things are working properly. The knee is then carefully closed and drains usually inserted, and the knee dressed and bandaged.
Post-Operation Course
When you wake, you will be in the recovery room with intravenous drips in your arm, a tube (catheter) in your bladder and a number of other monitors to check your vital observations. You will usually have a button to press for pain medication through a machine called a PCA machine (Patient Controlled Analgesia). Once stable, you will be taken to the ward. You will sit out of bed and start moving your knee and walking on it within a day of surgery. The dressing will be reduced usually on the 2nd post op day to make movement easier. Your rehabilitation and mobilization will be supervised by a physiotherapist.
Your Orthopaedic Surgeon will use one or more measures to minimize blood clots in your legs, such as inflatable leg coverings, stockings and injections into your abdomen to thin the blood clots or DVT's, which will be discussed in detail in the complications section.
A lot of the long term results of knee replacements depend on how much work you put into it following your operation.Usually, you will remain in the hospital for 4-6 days. You will need physical therapy on your knee following surgery.
Bending your knee is variable, but by 6 weeks should bend to 90 degrees. The goal is to obtain 110-115 degrees of movement.
Once the wound is healed, you may shower. You can drive at about 6 weeks, once you have regained control of your leg. You should be walking reasonably comfortably by 6 weeks.More physical activities, such as sports previously discussed, may take 3 months to do comfortably.
You will usually have a 6 week check up with your surgeon who will assess your progress. You should continue to see your surgeon for the rest of your life to check your knee and take X-rays. This is important as sometimes your knee can feel excellent but there can be a problem only recognized on X-ray.
Risks and Complications
As with any major surgery, there are potential risks involved. The decision to proceed with the surgery is made because the advantages of surgery outweigh the potential disadvantages.
It is important that you are informed of these risks before the surgery takes place.
Particular risks although small include infection, bleeding, scarring, damage to nerves or blood vessels, fracture, loosening, incomplete pain relief, stiffness, clots and anaesthetic complications.